SAN FRANCISCO, PHOENIX TAKE THE PULSE OF MEDICAL OFFICE
Two commercial real estate executives explain how their cities' healthcare industries are growing and changing in 2020.
By W. Trask Leonard, Jr. and Alexandra Loye
New state mandates and a labor shortage have caused these two Western metros to examine how their healthcare real estate is doing now — and what it may need to remain successful in the future.
Monumental Shifts Cause San Francisco's Medical Office Market to Respond
Two significant factors have driven dramatic changes in the San Francisco medical office landscape that this market has never seen before, including the addition of three new hospital campuses at a total cost of more than $4.4 billion.
The drivers — the California mandates for seismic compliance for hospitals and the drive toward healthcare system employment of physicians — have spurned significant new investment in healthcare real estate in San Francisco.
Last year, healthcare system Sutter Health completed the repositioning and redeployment of its hospital foundation in San Francisco, opening its $2.1 billion California Pacific Medical Center (CPMC) Van Ness Campus on March 1. The 289-bed facility at 1101 Van Ness Ave. opened after a planning, entitlement and construction process of more than 15 years. The facility is replacing the CPMC California Campus (Laurel Heights), which was deemed not feasible to retrofit to conform to SB 1953.
Concurrently, 1100 Van Ness, the first new multi-tenant medical office building in San Francisco since 1984, was opened by Pacific Medical Buildings, with Sutter Health leasing about 78 percent of the total 250,000-squarefoot, Class A building. The building, connected to the hospital via a tunnel under Van Ness, offers 10 stories of unsurpassed views and is now about
84 percent leased. In addition to Sutter, the building is now home to two
Sutter-affiliated independent practices and one specialty group.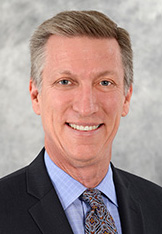 Sutter Health also re-positioned its 480-bed CPMC Pacific Campus at 2333 Buchanan Street in San Francisco from an acute care facility to ambulatory care. This is in addition to opening the newly reconstructed 120- bed CPMC Mission Bernal Campus (formerly St Luke's) at 3555 Cesar Chavez in the Mission District in August 2018 at a cost of $600
million.
Since 2015, other healthcare systems have contributed to the largest series of capital investments by healthcare systems in San Francisco since the 1940s and '50s. UCSF Mission Bay opened in 2015, growing into its current $1.5 billion footprint that boasts three hospitals, including UCSF Benioff Children's Hospital, UCSF Betty Irene Moore Women's Hospital and UCSF Bakar Cancer Hospital, part of the Helen Diller Family Comprehensive Cancer Center. The campus also houses the 207,500 square-foot UCSF Ron Conway Family Gateway Medical Office Building, supporting the hospitals. In 2016, Kaiser Permanente opened a new $200 million, 220,000-square-foot medical office building at 1600 Owens Street in the backyard of UCSF Medical Center at Mission Bay.
Reinvestment Continues
In response, investors in San Francisco's medical office buildings have reinvigorated or repositioned their buildings to attract new tenants. This includes the substantial upgrade and 100 percent-focus on medical office tenants for 1 Daniel Burnham Court, which is strategically located at the corner of Van Ness and Post, across the street from the CPMC Van Ness Campus; the dramatic modernization of common areas at 3838 California Street in Laurel Heights; the repositioning of Stonestown Medical Building, with Dignity Health Medical Group as a significant tenant; and the modernization of the Lakeside Medical Building, where Sutter Health will open a significant clinic later this year.
We have seen several larger and interesting trends in the past few months from the national landscape that will affect the San Francisco marketplace in the years to come. This includes a significant increase in the presence of cash-based or elective practices not constrained by declining insurance reimbursements, such as fertility, wellness and larger-scale behavioral health practices. A recent offering of fertility benefits to employees of large technology companies, in particular,
is further driving the strong demand for medical office space from well capitalized fertility practices.
Other trends include healthcare systems opening 15,000- to 30,000-squarefoot facilities in neighborhood and community locations within the city that are underserved. This includes conversions of formerly retail and/or office buildings in high visibility and high-convenience locations, rather than the 100,000-square-foot or more facilities. Vacancies, which increased modestly in 2019 from 6 percent to 9 percent as a result of the increased supply, will decrease again as these newly emerging practices take larger footprints. Construction costs for tenant improvements will continue to increase at high rates, with landlords likely to offer higher allowances for longer-term, strong-credit tenants. Just as the market has begun to digest the California mandates for seismic compliance for hospitals and the drive toward healthcare system employment of physicians, we will be on the lookout for the next possible change — the November 2020 election and a potentially radical change in nationalized reimbursement for services.
— W. Trask Leonard, Jr.,
President and CEO,
Bayside Realty Partners in San Francisco