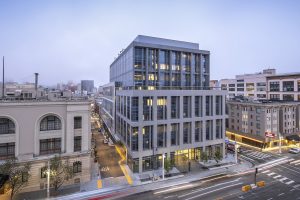 Advancing the urban outpatient experience: PMB's 1100 Van Ness building is 92% leased
The first new multi-tenant medical office building built in San Francisco since the 1980s offers a convenient central location, tenant ownership opportunities, scenic views and more
SAN DIEGO, RELEASE DATE – Thanks to the recent lease of the last remaining full floor to a major healthcare provider, 1100 Van Ness, San Francisco's largest and newest medical office building (MOB), is now about 92 percent leased to a variety of world-class medical providers.
The landmark 250,000-square-foot, 10-story, state-of-the-art medical building was developed in a joint venture between San Diego-based PMB, one of the nation's most prominent developers of medical office buildings, and Ventas Inc., a diversified healthcare real estate investment trust which is headquartered in Chicago.
"We are extremely proud to have been selected several years ago to become the developer on this landmark medical office building project," says Mark Toothacre, Partner and President of PMB. "Now, with its convenient urban location, 1100 Van Ness houses top-notch physicians and labs that provide easy access to important outpatient healthcare services, particularly during the pandemic."
Mr. Toothacre adds, "Not only is this the first new multi-tenant medical office building constructed in the city since 1984, it provides tenants many unique benefits, including the opportunity to buy into ownership of the building. Tenants also enjoy beautiful views, easy access to major San Francisco neighborhoods and convenient underground parking. Plus tenants and patients can easily go to the new hospital via a tunnel underneath Van Ness that connects to it."
The 1100 Van Ness building is home to more than 100 healthcare system specialists. Combined, these providers offer a wide range of medical services for area resident such as cancer care, cardiology, a transplant clinic, OBGYN and neurology.
Additionally, a world-class academic medical center-backed pediatric practice occupies a full floor and offers children and adolescents care across 17 subspecialities, marking a significant step for children's healthcare in the city.
Other tenants include Walgreens, San Francisco Surgical Medical Group, San Francisco Critical Care Medical Group and Cranial Technologies, providing a unique full-service ambulatory care center in the heart of San Francisco. Starbucks will be opening in the coming year as well.  The building also features a five-level, 383-space underground parking garage.
Mr. Toothacre says the 1100 Van Ness building, which was completed in March 2019 after a 13-year entitlement effort and complex construction process, is enabling major healthcare providers to better serve the growing San Francisco area population and comply with new California seismic building codes.
A few select tenant leasing and investment opportunities are still available, with remaining spaces ranging from about 1,000 to 15,000 square feet. For more information, please contact Bayside Realty Partners representatives Trask Leonard at 650-533-2591 or tleonard@baysiderp.com or Caroline Doyle at 650-722-1495 or cdoyle@baysiderp.com.